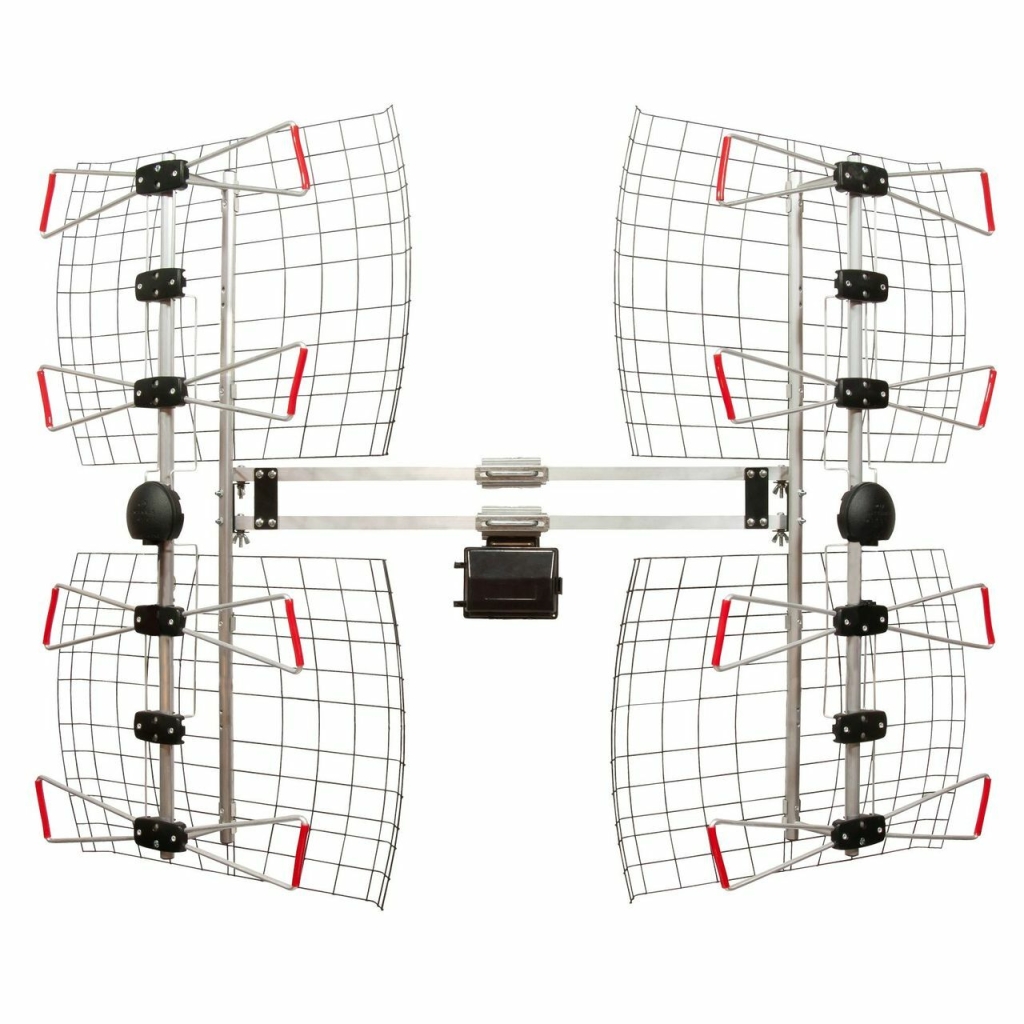 The DB8E is a unique antenna due to its unique ability to face two different directions simultaneously. This allows you to receive reception from 2 different cities (assuming they are close by). This antenna is also great if you have scattered TV transmitters in your area, for example, if you have some TV transmitters facing west while others facing south, etc…
This antenna is a UHF antenna and only picks up UHF signals. TV signals come in both VHF & UHF, so to pick up the VHF signals as well, you'll need to purchase an addon attached which I will discuss later in this article.
SEE IT IN ACTION (WATCH THE VIDEO BELOW)
Watch the video below to see this antenna in action and how it performs in an area surrounded by trees.
This antenna performs reasonably well. The only downside was that it didn't pick up the VHF channels, but this came down to the fact that the VHF attachment wasn't on the antenna. The VHF attachment is sold separately.
Despite that, it could still pull in 35 channels precisely 70 miles away, which proves this antenna manufacturer was not exaggerating about the Db8e 70-mile range. Also, the test with this antenna was done without an amplifier. If the test were done with an amplifier, it would have most likely gotten double the amount of channels.
PROS & CONS
✔️ Can track 2 different marks at once.
✔️ Picks up channels from 70+ miles away
✔️ Lifetime Warranty
✔️ Has 8 Antenna Elements (Higher probably of picking more channels)
✔️ Great for areas with scattered TV transmitters
✔️ Designed for rural areas with heavy foliage
❌ VHF attachment sold separately
❌ No amplifier is included.
❌ Mast (Mounting Pole) not included
❌ No cable cord included
WHAT'S IN THE BOX
1) 2 – Bowtie Elements
2) 2 – Reflector Panels
3) Element and Reflector Panel Hardware:
4 – 5½" Bolts with Aluminum Sleeves
4 – Washers
4 – Nuts
4) Crossbar
5) Swing Bracket Hardware:
2 – Swing Brackets
4 – Bolts
4 – Nuts
4 – Flange Nuts
6) Mast Mounting Hardware:
1 – U-Bolt
2 – Bolts
1 – U-Shape Bracket
4 – Mast Clamps
4 – Wing Nuts
7) Combiner
8) 2 – Coaxial Cable with Weather Boots
9) 5 – Zip Tie
WHERE TO PURCHASE
I always recommend that you purchase your antenna directly from the manufacturer. One of the reasons is that it ensures that you always get the latest antenna revision. 3rd party websites tend to have older versions while still charging the same price as the new models.
The official website to purchase this antenna is:
Another significant benefit of purchasing directly from the manufacturer is that they offer "Installment Payments" which means you can buy now and pay it of later.
Adding An Amplifier
One of the pitfalls is that this antenna does not come with an amplifier, so one must be purchased separately. An amplifier is highly recommended, especially if you live in a rural area or an area with many trees.
The recommended amplifier for this antenna is the Winegard XT Pro Pre-Amplifier: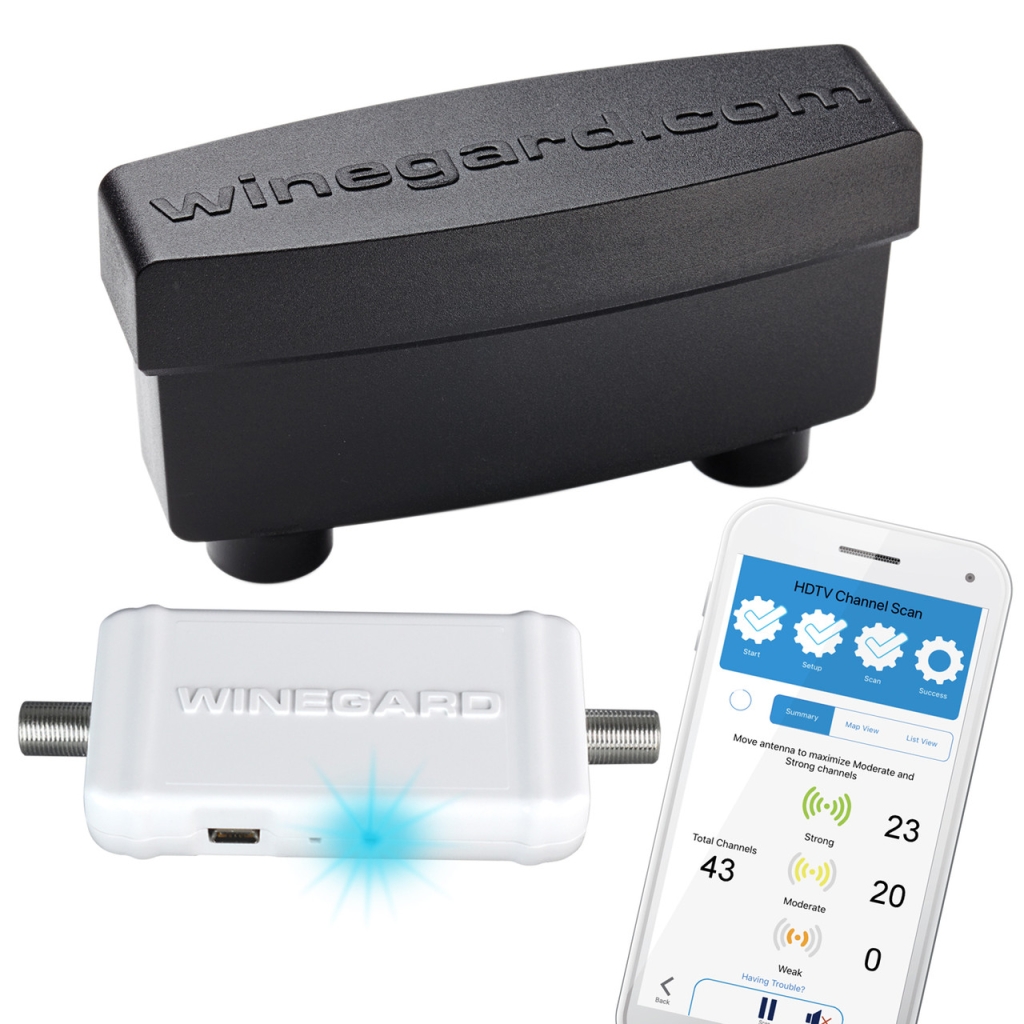 We recommend this amplifier bundle as opposed to other amplifiers on the market for several reasons.
1) This Pre-amp has a very low noise floor which is crucial for an amplifier. A lot of amplifiers on the market don't have as low a noise floor as the Winegard XT Pro
2) It comes with a 4G/5G/Wifi filter, preventing these signals from interfering with your TV signals. Living close to a 4G/5G transmission tower can cause issues with either pulling in specific channels or affecting the clarity of certain channels.
If you have a lot of neighbors who use Wifi devices (which almost everyone uses), these devices can also interfere with your TV signal. Hence, having a filter like the one included in the Winegard XT Pro is crucial to receive as many channels as possible.
3) It also includes a signal meter that connects to your mobile device. There is a reason why professionals always use a signal meter when setting up a TV antenna. The reason is that a signal meter allows you to adjust your TV antenna on the fly without running from your roof or attic, down to your TV, doing a channel scan on your TV, then going back to the antenna to readjust it, etc…
This signal meter allows you to adjust the antenna and see the signal of the channels you want to get in real-time. So instead of the installation process taking a few hours, it will take about 30 minutes.
A typical signal meter costs around $300, so the fact that this is also included in the package will save you a lot of money.
Here is an example of it in action:
To get one, Click Here
Which Cable Cord Should You Use?
Most people tend to cheap out on this, yet it's one of the most critical parts of an antenna setup: the cable cord. There are several types of cable cords on the market, and the best one is the Antennas Direct RG11 Superior Grade Coaxial Cable with Molded Strain Relief;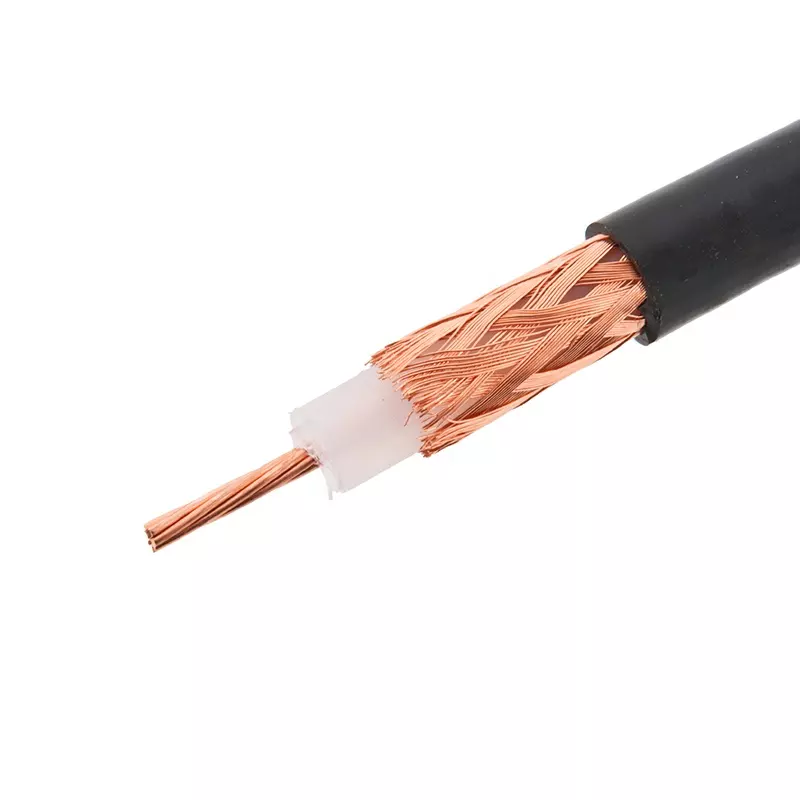 This cable delivers high performance due to the amount of copper it has. The more copper a cable cord has, the better the performance will be. The downside is the more copper a cable cord has, the more expensive that cable cord will be.
The type of cable cord I recommend you do NOT purchase is copper clad (also known as Copper Coated Steel). The reason is that steel has much lower conductivity than copper, which might lead to weaker TV signals.
VHF Reception
One of the cons with this antenna is that it does not have VHF elements so you won't pick up channels 7-13. This is where many news stations reside, so it's highly recommended that you add the VHF Attachment to your order.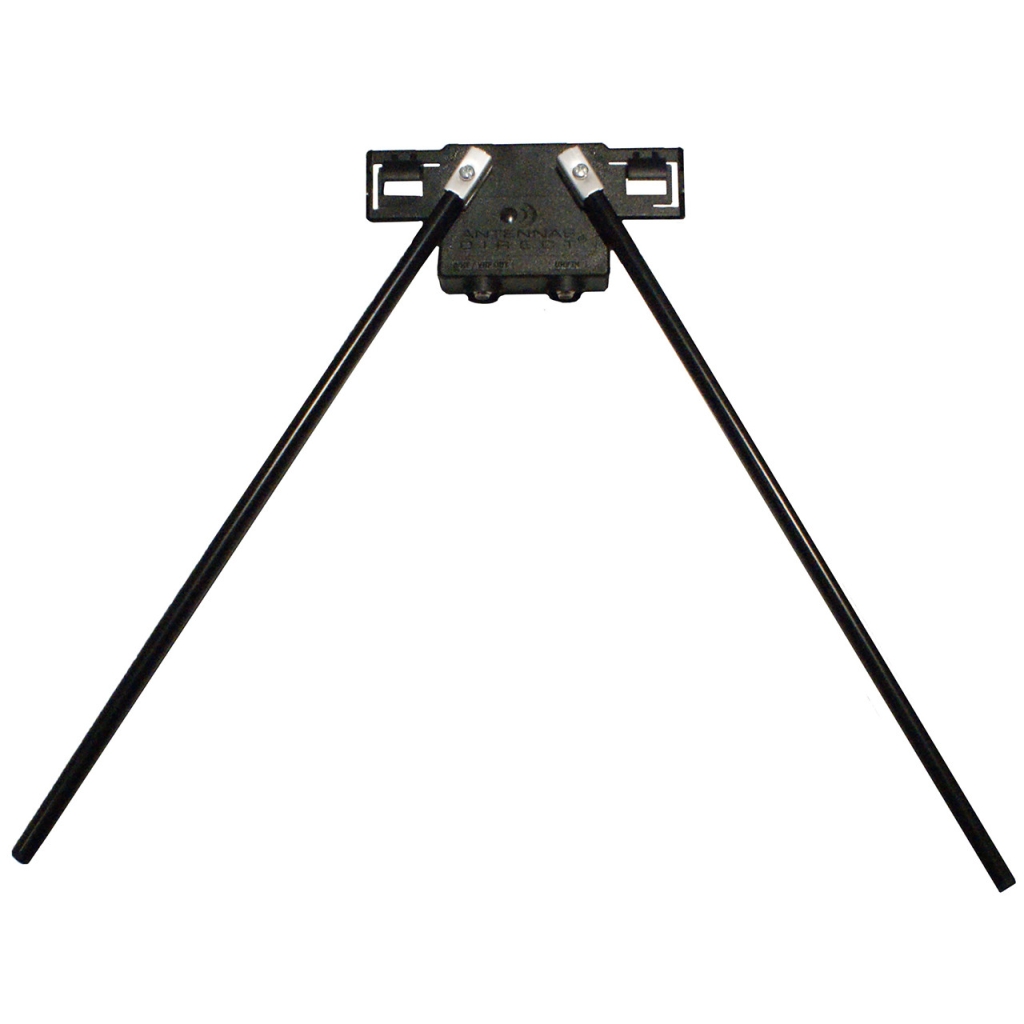 This attachment snaps onto your antenna and allows you to pick up channels 7-13. You can purchase the Hi-VHF TV Antenna Reception Kit here:
How To Install This Antenna
While this antenna looks complicated to assemble, it's pretty straightforward, especially if you watch the instructional video below:
This antenna can be placed in your attic, but you'll be doing yourself a disservice. This antenna shined when placed outdoors, as this allowed it to pull in the most amount of channels.
If you can't install the antenna on your roof yourself, I recommend you use a service like Thumbtack or HomeAdvisor to hire someone local to come out and do it for you.
How To Hire Someone On Thumbtack or Homeadvisor To Install Your Antenna
1) To get started, Click Here to go to Thumbtacks website
2) Once you're on the website, put in your zip code: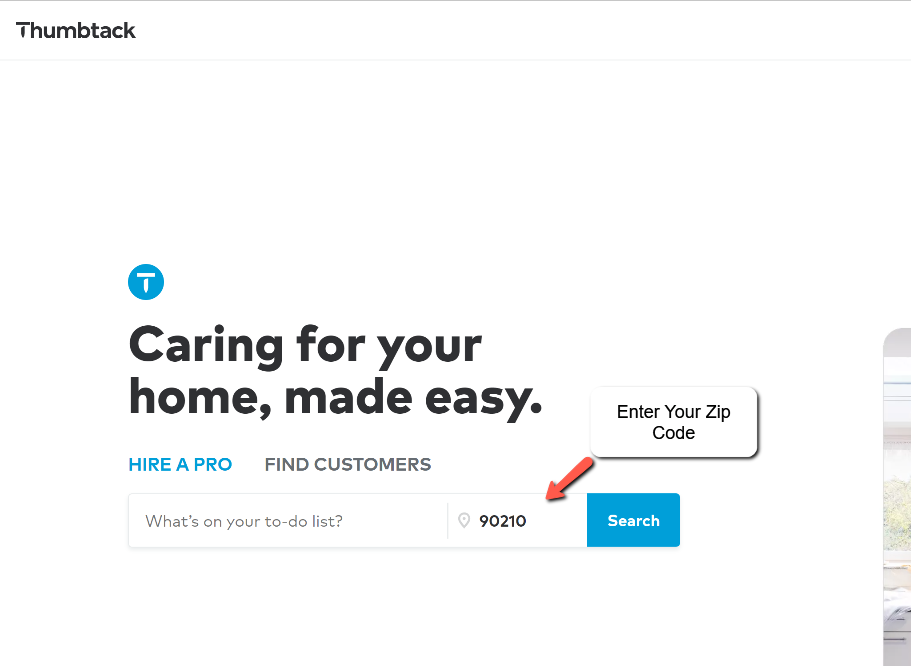 3) After entering your zip code, click where it says "What's on your to-do list?" and type in 'satellite dish.'

You are selecting the 'satellite dish' category because Thumbtack doesn't have a specific TV antenna category. This doesn't matter because people who install satellites will also install TV antennas on your roof because the setup is the same.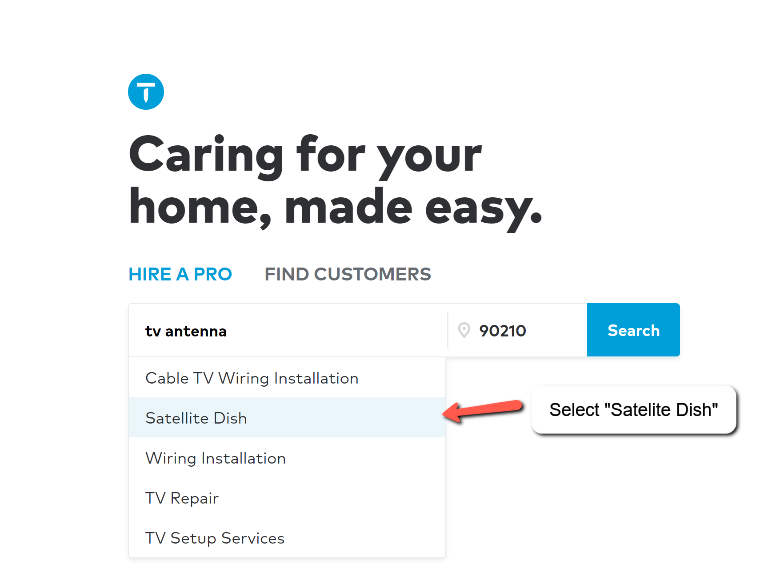 And that is it! From there, you will see a list of local contractors you can contact who will come out and install your TV antenna on your behalf.