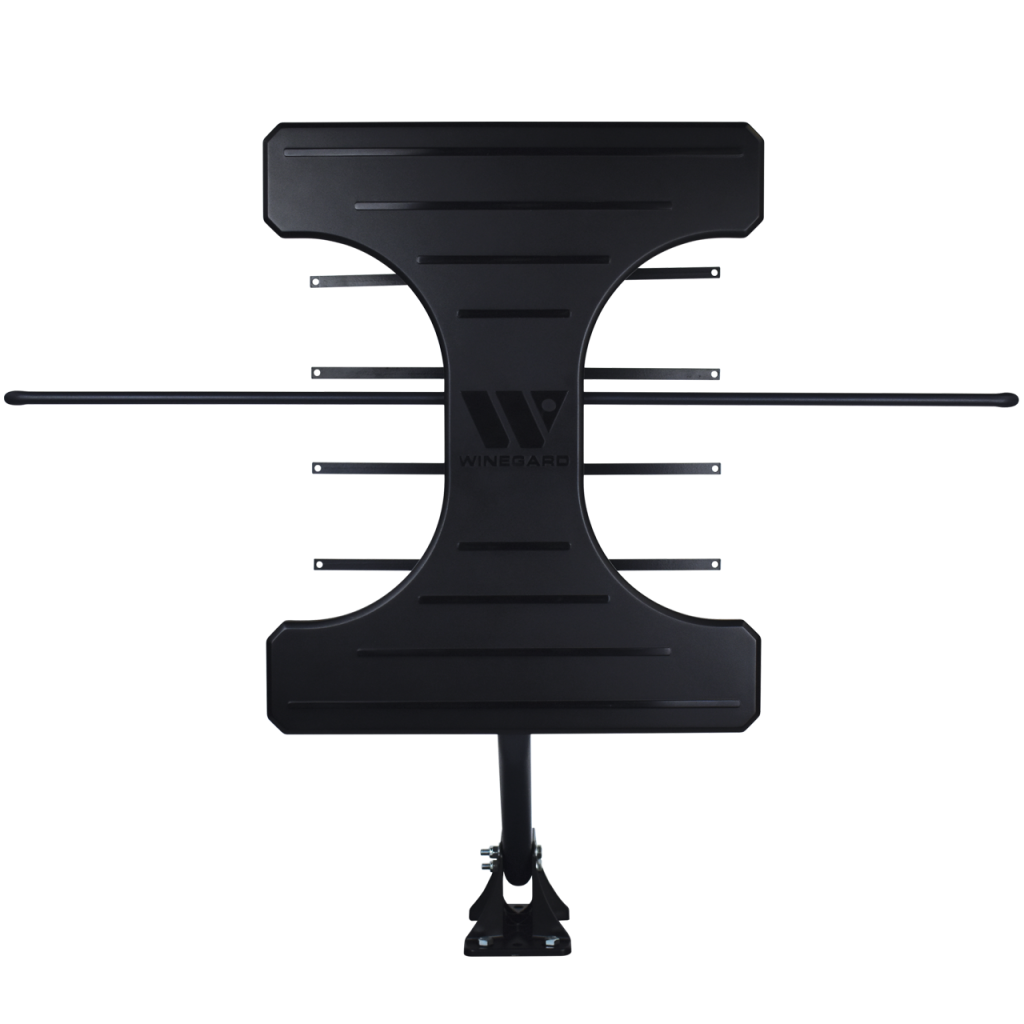 The Winegard Elite 7550 is an Outdoor TV antenna (which can also be used indoors) that performs better than most TV antennas on the market. Not only that, but it's one of the better-looking antennas with its low-profile design. What I like about this antenna is that it has multiple VHF elements. This makes it easier to pick up VHF TV signals without sacrificing its ability to pick up UHF TV signals.
SEE IT IN ACTION (WATCH THE VIDEO BELOW)
Below you'll see this TV antenna in action
The nearest TV transmission tower is 24 miles away, while the other towers are even further away, yet this antenna could still pull in 94 channels! Please keep in mind this antenna was mounted on a very tall pole that was about 25+ feet in the air as you can see in the video below:
This is why I always recommend putting your antenna outdoors on the highest point (which is your roof). Please Note: you do not need a tower to do this. You can mount it on your roof.
PROS & CONS
Here are some of the Pros & Cons of The Winegaurd Elite 7550:
✔️ Perfect antenna for windy areas.
✔️ Works well at picking up VHF & UHF
✔️ Aesthetically pleasing
✔️ Mast (Mounting Pole) is included
✔️ Tested to withstand salt & fog
✔️ Already amplified so no amplifier needed!
✔️ Smaller compared to most outdoor antennas
✔️ You can purchase with four interest-free payments
❌ No Coax cable included.
❌ Only comes with 1-Year limited warranty
What's In The Box
Elite 7550 Amplified HDTV Antenna
Power Inverter
3′ USB Power Cable with 110V Adapter
Mounting Supplies – Pipe, Foot, and Hardware
Printed Documentation
Where To Buy
In order to ensure you get the manufactures warranty, I highly recommend you purchase this antenna directly from the manufactures website: https://go.newtechdaily.net/winegard-elite-7550
The Best Antenna For Windy Areas
One thing I will say about this antenna is that it's simply the best antenna for windy areas compared to anything on the market. This antenna was put into a wind tunnel with 100 MPH sustained winds to prove its durability which you can watch below:
So if you live in an area with tornados or hurricanes, this might be an antenna you would want to consider.
Adding A 4G/5G/Wifi Filter & Signal Meter
One thing I do recommend when purchasing this antenna is to add a 4G/5G/Wifi filter. The reason why is that these signals can interfere with your TV signal. 4G, 5G, Wifi & TV signals tend to share the same frequency range, which can lead to overlapping frequencies.
This might show up as pixelation or even an inability to receive specific channels due to interference.
As for the signal meter, this is important because when installing your antenna, any slight movement can significantly change the signal strength of specific channels. This is why professionals use signal meters when installing an antenna because it's almost impossible to do so correctly without a signal meter.
This is also why I always recommend the Smart Signal Meter With 5G Filter from Winegard:
Not only does this device filter out 4G/5G & Wifi signals, but it's also a signal meter. It connects your phone via a mobile app. The app allows you to see how many channels there are and the signal strength of each channel as you move the antenna.
You might get more or fewer channels every time you move your antenna. The only way to tell is to do a channel scan every time you adjust the antenna. This will quickly get tiring because you'll have to climb down, go to your tv, do a channel scan and climb back up multiple times.
So instead of continuously running up and down from your roof/attic every time you adjust the antenna, you can install the included signal meter app which comes with the 4G/5G filter. Once the app is installed onto your smartphone, you can do a channel scan directly from your phone.
This allows you to continue adjusting the antenna without constantly going down to check your TV to see if you're getting more or fewer channels.
Once you've found the perfect position where you get the most channels, you lock the antenna and that's it.
A typical signal meter costs about $300, so since this functionality comes free with the 4G/5G/Wifi filter is a huge plus since that will save you a lot of time and money.
Here is an example of the signal meter in action:
You can get one here: http://go.newtechdaily.net/winegard-signal-meter-5g-filter
Which Cable Cord Should You Use?
As mentioned earlier, the Winegard Elite 7550 does not come with any coax cable cord, so that must be purchased separately. Regarding which cable cord you should purchase, I am a big fan of Antennas Direct RG11 Superior Grade Coaxial Cable with Molded Strain Relief.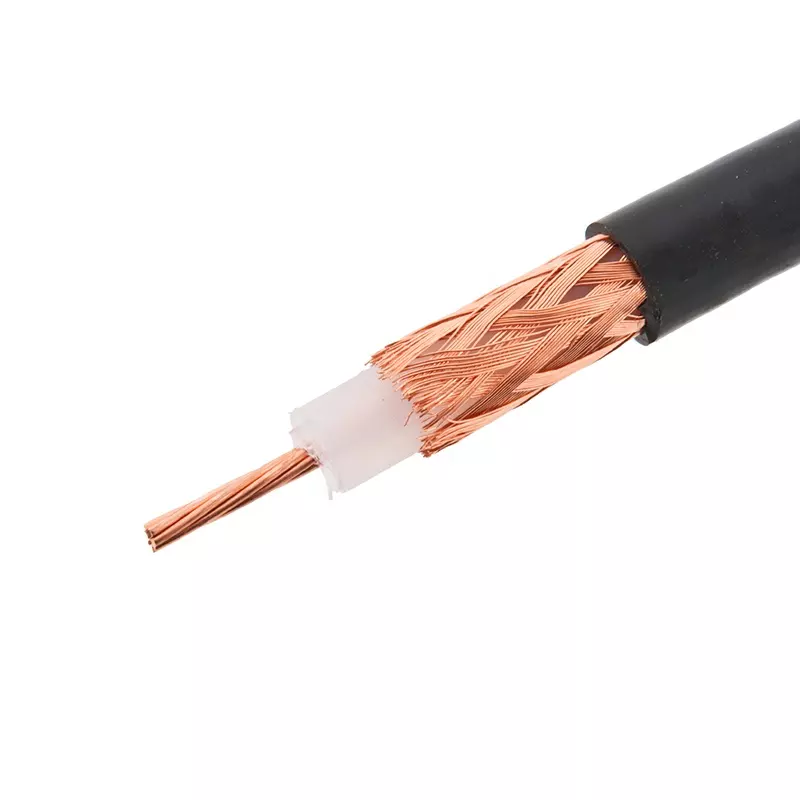 RG11 coax cable has a lot more copper than RG6 cable. This leads to improved performance such as a better ability to pull in weaker channels. The only downside is that RG11 cable is more expensive than RG6 wire due to RG11 containing more copper.
If you want a cheaper alternative, then I would suggest the RG-6 Coaxial Cable With Weather-Resistant Connection:
The RG-6 wire is steel coated with copper, not pure copper like the RG11. Regardless it will still work fine in most situations.
How To Assemble & Install
I highly recommend installing this antenna outdoors on your roof, which will significantly increase your likelihood of getting more channels. From my test, sometimes we could get 2x the amount of channels just by installing it outdoors. If you can't do the installation yourself, I'll provide options below for finding someone to install it on your roof.
Even if you don't plan on installing the antenna yourself, to save time, you should assemble the antenna beforehand (though you don't have to, as the installer will do this for you).
If you do want to assemble and install the antenna yourself in your attic, than this video would help you do so:
Now, if you don't have the skillset, are afraid of height, or simply too old to be climbing ladders (like me), then I recommend hiring someone from Thumbtack or Homeadvisor to install the antenna for you.
How To Hire Someone On Thumbtack or Homeadvisor To Install Your Antenna
1) To get started, Click Here to go to Thumbtacks website.
2) Once you're on the website, put in your zip code: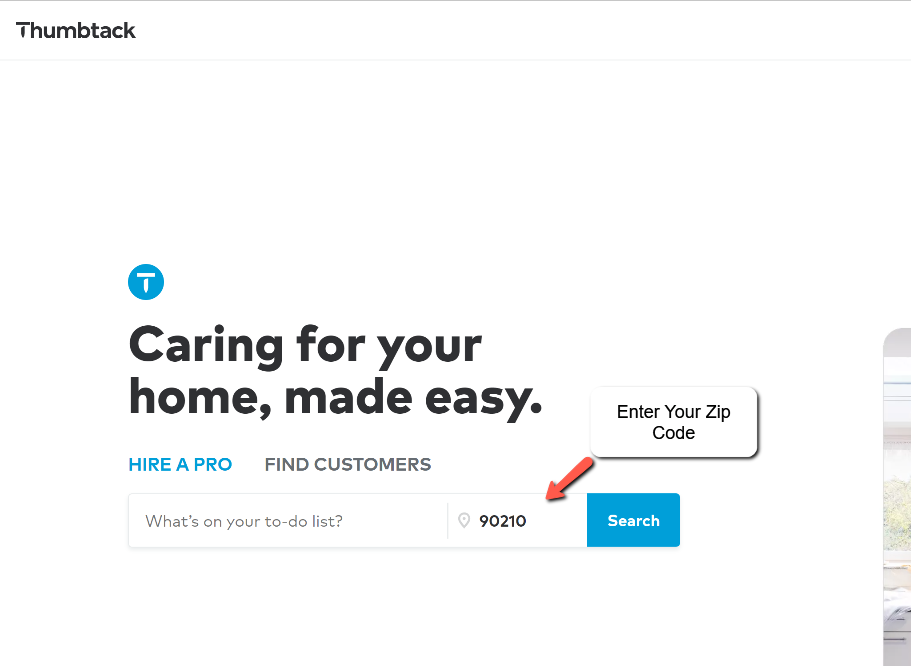 3) After entering your zip code, click where it says "What's on your to-do list?" and type in 'satellite dish.'

You are selecting the 'satellite dish' category because Thumbtack doesn't have a specific TV antenna category. This doesn't matter because people who install satellites will also install TV antennas on your roof because the setup is the same.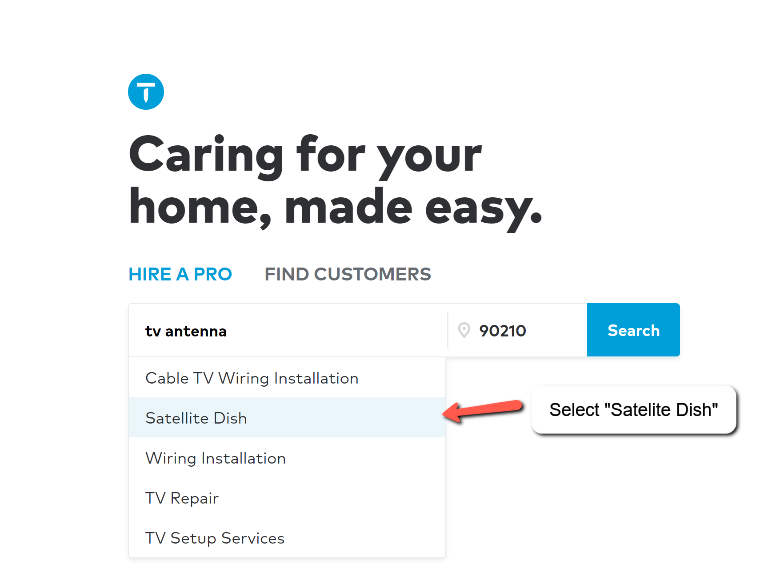 And that is it! From there, you will see a list of local contractors you can contact who will come out and install your TV antenna on your behalf.