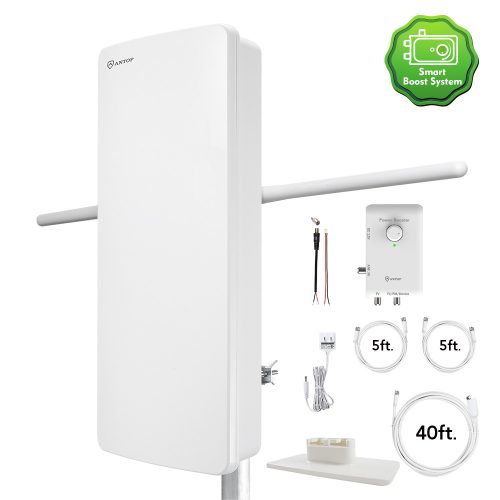 The Antop AT-800SBS is one of the top-performing antennas currently on the market. TV signals generally come in 2 formats, UHF & VHF. Some antennas have good UHF but bad VHF performance and vice versa. The Antop AT800SBS is one of the few antennas with good UHF and VHF, which is why it performs well and pulls in as many channels.
See It In Action (Watch The Video Below)
I can sit here and tell you how good this antenna is, but I would rather show you so you can see the performance for yourself:
So as you can see in the video, the Antop AT-800SBS, like most antennas, performs way better when placed outdoors. By putting this antenna outdoors, it could receive 3X the number of channels. It got 24 channels while it was indoors and 57 channels when it was placed outdoors.
While you can use the Antop AT-800SBS indoors, as demonstrated in the video, doing so will lead to poor results. If you live in a rural area or somewhere with many trees or buildings, then keeping the antenna indoors is not an option. You'll have to install it outdoors or in your attic but outdoors will lead to the best results.
If you don't know how to install an antenna on your roof, are too old, or are scared of heights to do so (I also hate heights), I suggest you use a service like Thumbtack. These sites allow you to hire people for anything you need, including installing your TV antenna; I will show you how to use these sites later in this article.
Pros & Cons
Like with every antenna, there are Pros & Cons:
✔️ 1 of the only antennas with a real 85- mile range
✔️ Works very well in rural areas.
✔️ Great for areas with trees present.
✔️ Comes with an optional FM antenna
✔️ Includes 4G/LTE filter
✔️ Includes an amplifier
✔️ Can be used indoors or outdoors

❌ Large in size
❌ No "easy payments" option.
❌Not very aerodynamic
Where To Purchase
I highly recommend purchasing this antenna directly from Antop's Offical Website. The reason is that websites like Amazon still carry the older version of this antenna. If you order directly from Antop's official website, you'll get the latest 2022 version of this antenna which may perform even better.
What's Included In The Box
TV Antenna
Amplifier/Wifi/LTE Filter
2 5ft Cables
1 40ft Cables
2 VHF Extention Rods
Stand
Power Adapter
Optional FM Antenna
Design Aspects
This antenna's design is one reason it works so well. It supports both UHF & VHF transmission signals VHF channels are numbered 2 to 13, and UHF channels 14 to 36. Some antennas only have one or the other & this antenna does a great job receiving both frequencies due to its unique design.
This design makes it easy to pick up between 50-100+ channels in most locations, including rural areas & areas with tall trees.
Installation
It's best to install this antenna outdoors, as shown in the video above. When placed indoors, the antenna only picked up 24 channels, but when placed outdoors, it picked up 57 channels. An antenna posted indoors will not perform nearly as well as an antenna placed outdoors.
Get A Signal Meter If You Plan To Install It Yourself
If you plan on doing the installation yourself, I highly recommend that you purchase this SMART SIGNAL METER by Winegaurd:
This signal meter/5g filter will make your life a whole lot easier! This device hooks up directly behind your TV, and the antenna cable hooks up to the other end. Once connected, you download the mobile app. After which, you can do a scan directly from your phone to see how many channels you'll get based on where your antenna is currently pointing as well as a live signal meter for each channel that shows up.
This device allows you to adjust the antenna's position to see the signal strength & how many channels you'll get once you lock the antenna in place. Without this device, you would have to climb up and down your latter or attic each time you make an adjustment to your antenna.
Here is a quick demonstration:
It also acts as a 5G filter which prevents cellphone signals & wifi signals from interfering with your TV reception
You can get one here: https://go.newtechdaily.net/winegard-signal-meter-5g-filter
Tips To Follow When Installing This Antenna
If you live in a rural area or have trees around you, putting the antenna indoors is not an option unless you have an attic. Even if you choose this option, you'll still need to run a cable from the attic down to your TVs, which can be a bit complicated.
As stated previously, you can use a site like Thumbtack to hire someone to come out and install your antenna and run the wires down to the TV. It's 100% worth the investment because it will allow you to receive three times the amount of channels.
How To Hire Someone On Thumbtack To Install Your Antenna
1) To get started Click Here to go to Thumbtacks website
2) Once you're on the website, put in your zip code: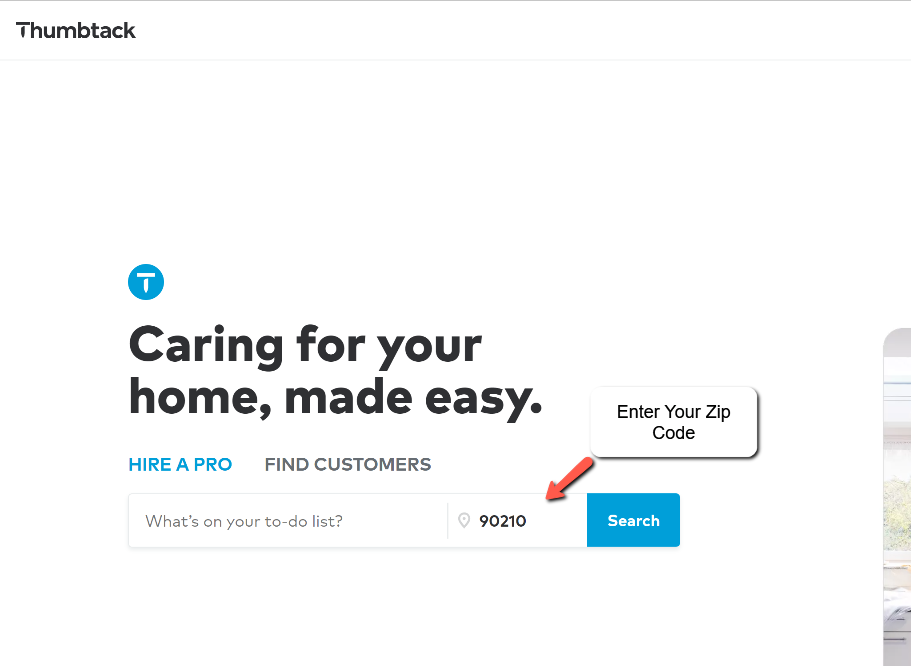 3) After entering your zip code, click where it says "What's on your to-do list?" and type in 'satellite dish.'

You are selecting the 'satellite dish' category because Thumbtack doesn't have a specific TV antenna category. This doesn't matter because people who install satellites will also install TV antennas on your roof because the setup is the same.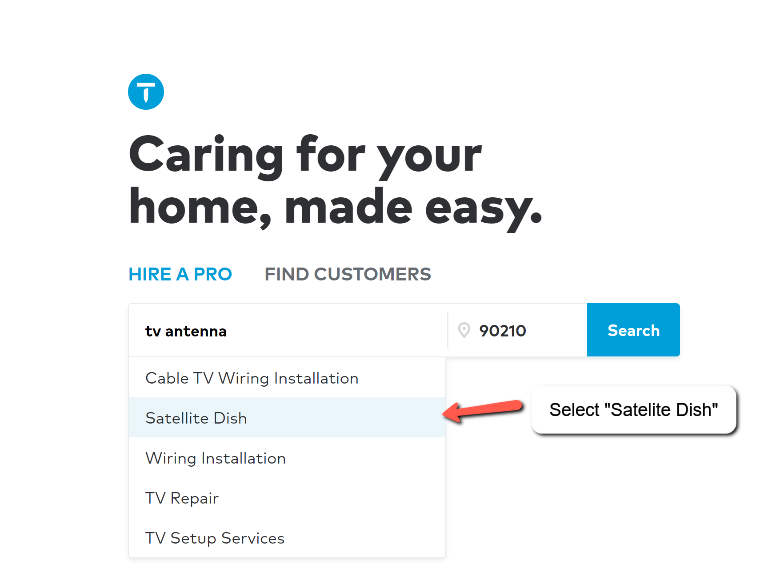 And that is it! From there, you will see a list of local contractors you can contact who will come out and install your TV antenna on your behalf.