There's no question that people are easily and often influenced by what they see on tv. Research shows that now more than ever, we need to be careful about what we expose ourselves to and what we expose our children and grandchildren too.
The problem is, streaming services, movies, tv shows, etc… is that they have no filtering technology. Therefore we expose ourselves and our children to things we may not want to see. This is where VidAngel comes in!
VidAngel is a service with state-of-the-art filtering technology that removes inappropriate moments and words in just about any TV Show or Movie you want to watch, as outlined in the video below:
This protection over the family experience that negates any poor examples of how to communicate & family values help families keep the bounders in their control.
No matter if it's for your family or yourself if you just don't want to see certain things in movies & tv shows, such as sex, violence, and blood, to name a few. VidAngel puts the power back in your hands; that is the best thing about this service.
VideoAngel Pros & Cons
VidAngel put a lot of thought into what the general public might consider "bad". The service detects and effectively filters these elements; you have complete control of what gets filtered out. You can also choose what to leave in as well. You can use the default options or set your own.
So if you are the "purist" type who only wants to watch movies & shows without filtering certain content, this service might not be the best for you. If you don't want to see or hear certain things in TV Shows or Movies, then this service is definitely for you.
VidAngel allows you to connect your existing streaming services and set filters so that you can watch any show of your choosing without whatever you choose to filter out.
The small margin of error might be that the default filter settings are already configured (but you can still manually change them), so if you trust VidAngel to do the work for you, your experience with VidAngel will work out best. However, because the filters are very detailed, there are hardly any downsides, especially if you don't have the time to set filters manually.
What if my show isn't filtered?
You can always send in your request. VidAngel tries to stay on top of new content released throughout the currently active and most popular streaming services, but if they miss something, you are always welcome to send them a request, and they'll follow up and filter the content for you.
VidAngel works with Apple TV+, Amazon, and Netflix subscriptions. Heads up, VidAngel has a contractual agreement with Disney and Warner Bros NOT to filter their content, so VidAngel will not function on their streaming productions.
Why do we need VidAngel?
There are apparent effects in mirroring behaviors of watching violence and gore or viewing adult content before teens and adolescents are more experienced in life. It is imperative because this will alter what they perceive as "normal" or "appropriate", according to the finding of psychologists.
For adults, viewing such content can also affect behaviors and moods over time.
A great way to avoid the need for behavioral correction later in life is to ensure that the "bumpers" and "parameters" are around what we deem appropriate to be the standard. VidAngel is the only service that can help you filter out anything that doesn't meet up to your standards.
Is VidAngel a free streaming tv filter service?
VidAngel is not free. VidAngel took time to create and required real people to edit some of these movies and TV shows. VidAngel costs a very generous price of $9.99 a month, which is a bargain as there is no other service like VidAngel on the market.
So instead of charging a ridiculous amount of money, they've decided to keep their prices as low as possible so everyone can afford it.
VidAngel will protect the scope of awareness in children, teens, and adolescents for a lifetime; it's an excellent service, and there is nothing else like it. Use it to relax around guests or if you might want to skip unacceptable scenes automatically.
What kind of Control will I have with VidAngel?
VidAngel is a subscription service that pairs customizable filters for Apple TV+, Amazon, and Netflix subscriptions, just to name a few. To see the complete list, please view the screenshot below: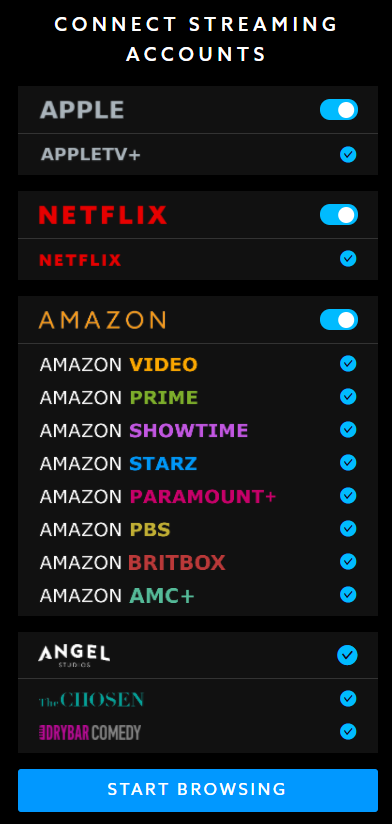 It is a customizable filter remote control. Put unwanted language on silence or skip scenes with too much mature audience culture with the easy-to-use application.
Filtering options depend on the movie; the more harmful content, the more options you'll have. Here is an example of some of the filter options for the movie Outlander: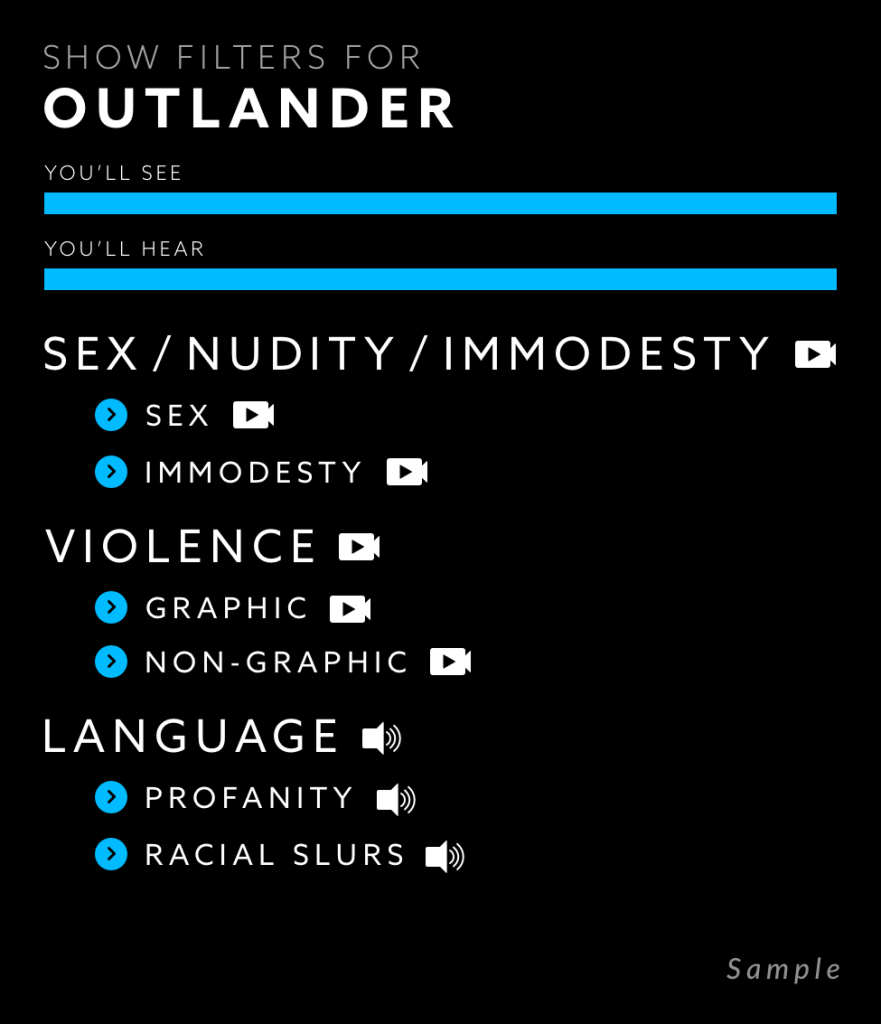 Any adult who wants to share entertainment confidently will enjoy the VidAngel subscription service because it removes the potential for harmful or disruptive exposure to adult content.
The filters are so detailed that you can easily set your preferences on what exactly you want to filter out.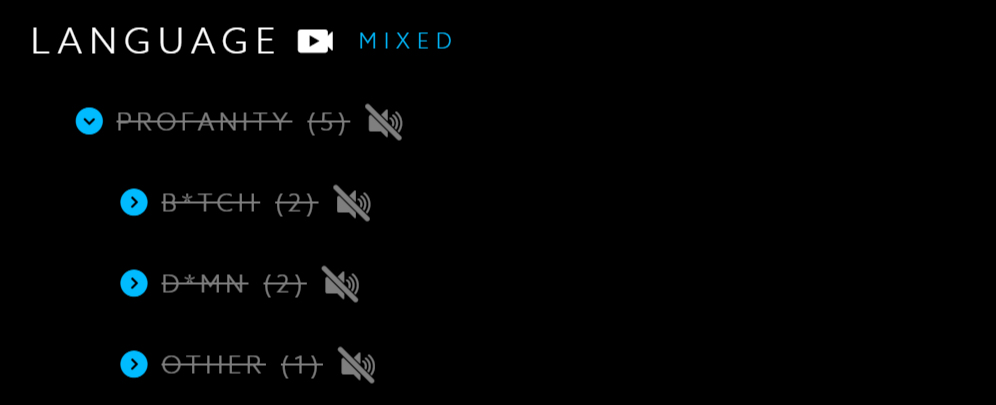 VidAngel provides circumstances for you to check off so that it's not just a blanket of changes; rather, you can pick which specific actions that make you uncomfortable to the point where you want that specific behavior filtered out.